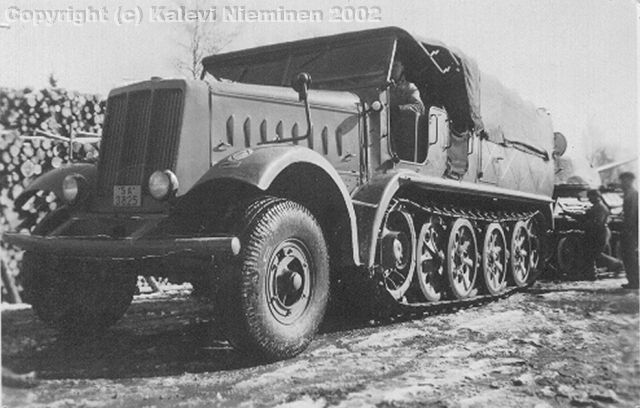 Mr. Kalevi Nieminen writes: "The pictures were taken in the winter 1952-1953 when my father Ossi Nieminen was in the army. He would have rather have been in the FAF but I think due to his eyesight he had to go to the armoured section. Evidently this was good for him as he was quite a good driver from very young.
He bragged to me about the performance of the T-34, saying "it sure could move that mass around". I guess that V12 could produce tremendous torque. He also mentioned how very accurate the main gun was, stating that almost everyone in his unit could lop off 1 meter sections of a standing pine tree at quite a distance which I don't accurately remember but was near 1000 meters!?!.
During training he told me that he was ripping around in field with nearly waist high snow and proceded to go towards a drift that a plow had made (maybe 2meters high), as he was crashing through he noticed a car coming and made an evasive manouver narrowly missing the car and sending snow flying everywhere. Apparently the car (a volkswagen) was on a restricted road and a ranking officer came out and with a commanding voice asked "who is this thats driving this tank?". My father was still in the drivers seat with the hatch open when the officer shook his hand and thanked him for his driving skill as it was a very close call...
Evidently the shaking part was easy. He mentioned that shifting was very physically demanding and smaller men sometimes had to use both hands to get gears. He was with RUK76 in officer training and I believe he was a vääpeli or a vänrikki. I was young when he told me and always get the two mixed up. Unfortunately he died in March this year (2000) so detailed information is not possible for me about these pictures as I didn't have the foresight to write them down earlier.
The old garages are seen in some pictures but I don't even know if they were in Hamina or Parola, about the rail pictures I have no idea."
Photos copyrighted © by Mr. Kalevi Nieminen, Canada. All rights reserved. Used with permission.