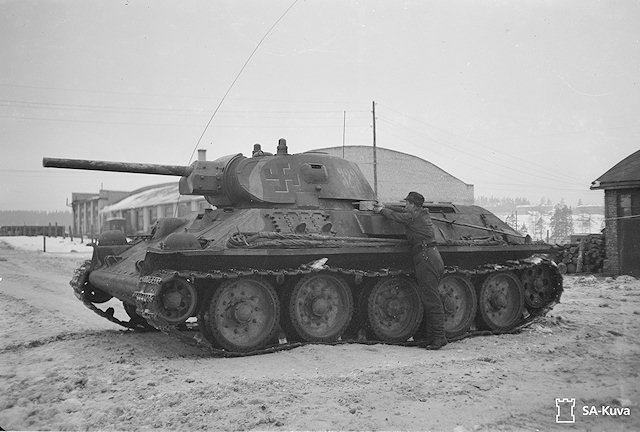 R-111 (later Ps.231-3) photographed Januari 30th 1944. SA-kuva 145.407
This very early m1941 T-34 is probably the very one used by Mr. Reino Lehväslaiho in the counter-attack at Portinhoikka in June 1944. The victory-markings painted at the gunbarrel are therefore real.
The tank is in it's post-war condition. The roadwheels, idler-wheels and the tracks have been changed. During the war the roadwheels were of the solid dish type, and the idler-wheels were the typical m1941 rubber-rimmed ones. The tracks were of the pre-1942 kinds. Also the front- and aft fenders have been modified. During the war these were of the same kind as Ps.231-2 still have today.
The pictures are taken by Mr. Ari Husu at the Pohjois-Karjalan Prikaati's garrison area in Kontioranta, Joensuu, Finland.
Photos copyrighted © by Mr. Ari Husu. All rights reserved. Used with permission.