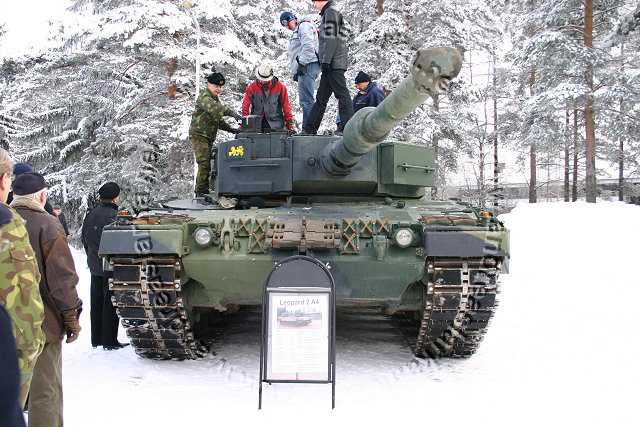 This Leopard 2 A4 have the same incorrect camo as Ps273-93. These are the only two tanks that has this mistake.
The tank on display here features most of the Finnish mods that have been made to the Finnish Leos by this date. The most visible mods are: Added handlebars to the sides of the turret, added track-grouser box to the left turret front, added fire extinguisher at the right rear side of the turret, added two adapter rings for the new antenna bases on top of the turret rear and the cut-out for the drive-sprocket. Still lacking are the rear turret boxes and cages. This tank also has the Armour School insignia on the right turret front.
These pictures are taken February 11th 2006 at the Finnish Armoured Brigade in Parola, Finland. Sorry for all them civilians in the pics. This is not my usual style to take pics, but I was cold, allright?
Photos and text © Copyright by Andreas Lärka, Finland. Thanks to Mr. Esa Muikku for supplying correct info about the Finnish mods.