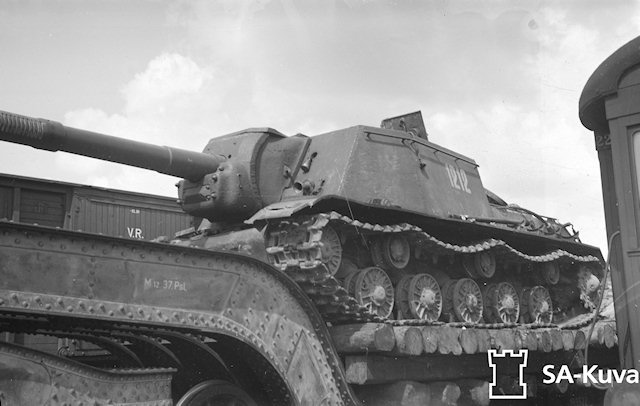 "1212" photographed in Mikkeli in June-July 1944. SA-kuva 152.191
The Finnish Armed Forces captured two Soviet-made ISU-152 assaultguns during the summer of 1944. One was lost a few days later, but the other one - this very one - was sent to Varkaus for repairs. The assaultgun didn't see saw any more action during the war, but was used as a recovery vehicle after the war. When serving as a recovery vehicle the gun was removed and the large Finnish-made exhaust-pipes were added.
Upon capture the ISU was marked "1212". During the latest repaint in the Parola Armour Museum another number, "92-31", was discovered under the layers of paint. This number was overpainted already during the war and has now been uncovered for the first time since!
In 2006 I wrote an article about the Finnish wartime use of these assaultguns. The article is published in the Finnish Mallix -model magazine, issue 1/2006.
These pictures are taken by Mr. Heikki Jäntti at the Parola Armour Museum in Parola, Finland.
Photos © Copyright by Heikki Jäntti. All rights reserved. Used with permission.